Battle Jam 2005 Resource Center
NEWS | OFFICIAL RULES | HOW TO ENTER | ENTRANTS | GRAND PRIZE PACKAGE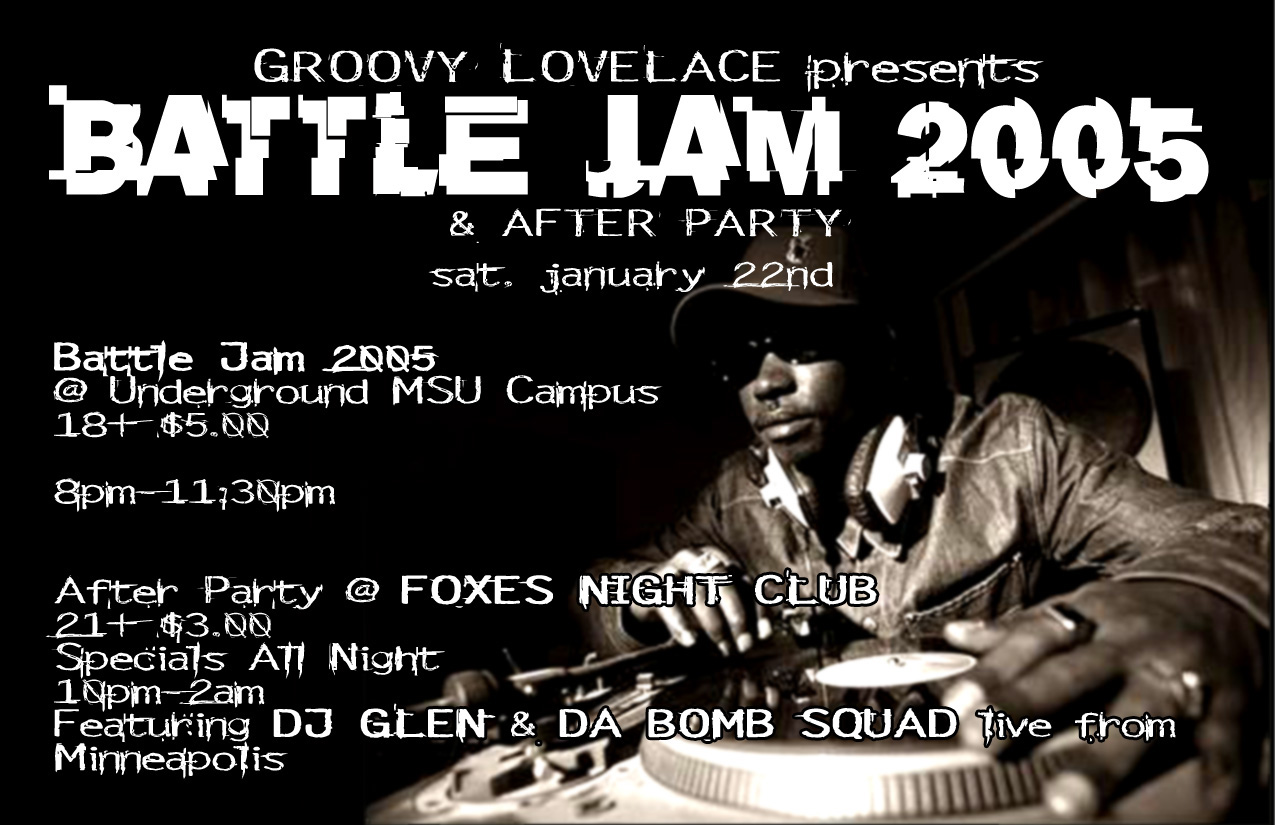 ---
If you are a DJ interested in competing head-to-head against regional DJs for a new DJ Mixer and more, contact Nick of Iced Breaks Entertainment:
(701)729-5783 -or- joyride@icedbreaks.com
---
Iced Breaks Entertainment along with KMSC Dragon Radio and Groovy Lovelace will present BATTLE JAM 2005 at MSUM's UNDERGROUND dance club on Saturday, January 22nd from 8pm until 11:30. Afterparty accomodations will be celebrated at Foxes Bar (123 21st St. - Moorhead) with DJ Glen and the Bomb Squad. All Deejays competing in the battle are welcome to perform at Foxes as well.
---
OFFICIAL RULES:
The official rules of the competition will be completed and posted here. Until then, this information has been released, but is subject to clarification and/or change:
4 rounds will determine the winner.
All judges' decisions are final.
The order of performances will be drawn the night of the event.
Each contestant will perform at a one of two stations, each with 2 turntables, slipmats, carts, and a DJ mixer. DJs are responsible for their own headphones. They may provide their own slipmats and/or needles, but must have prior approval to add any other playback device(CD player, Turntable, MD, et al.) to perform with. No devices with sequencing or live programming capabilities of any kind will be permitted.
Contestants will be judged on 3 categories: Technical Abilities, Audience Interaction(Showmanship), and Crowd Response

Technical Skill and Crowd Interaction will be scored based on a Judges decision
Crowd Reaction will be measured with a dB/SPL meter at the end of each set.

Set duration will vary between rounds, none will be no longer than 6 minutes in length. You will have no more than 3 minutes to prepare your station for each performance. Time will begin at the MCs mark and the MC will signal when 30 seconds remain.
The first round (4 minutes) will eliminate all but eight(8) competitors. (Crowd Reaction will not be a component of the first round score)

These (8) djs will compete in 3 head-to-head elimination rounds in a tournament. top

Rounds 2, 3, and 4 will be head-to-head single elimination rounds determined by the judges after first round performances.

After each heat, one contestant will be eliminated. The winner will move on to the next round.
In rounds 2 and 3 each DJ will have 5 minutes to perform.

After the 3rd round, before the CHAMPIONSHIP match, there will be an intermission.
The CHAMPIONSHIP match: round 4
The championship head-to-head match will be a battle round in 2 - 3 minute sections.
The crowd response will only be measured after both DJs have played both of their sets for this round, while the Judges tally for each 3 minute semi-set.
In the case that the finalists scores are tied, there will be a SUDDEN DEATH round.
SUDDEN DEATH:

In sudden death, a coin will be flipped to determine an advantage. The person with the advantage may choose either who goes first or to switch stations. If the winner of the coin toss chooses to switch stations, his or her opponent can choose to perform first or second. If stations are switched, each DJ must take his or her needles, records, and headphones along to the other station.
There can be no ties in sudden death. If a clear winner does not emerge, the tie will be decided by Groovy Lovelace CEO, Big Poon.
---
To the WINNER goes the spoils, to all the rest... simply respect.
---
ENTRIES:
Please direct all entries to Iced Breaks Entertainment:
c/o Nicholas Goodroad
2009 7th Ave. N.
Fargo, ND 58102
Guidelines for entry:
All entries must include:

A short mix that demonstrates your abilities as a DJ (10 minutes is long enough) and should represent your prospective performance. * if computers are your thing, you can forward a link to one of your mixes to: joyride@icedbreaks.com
A page with the following: Your real name, performance name, group affiliation(optional), your e-mail address and telephone number, and 4 lines you would like to be introduced with. * This information will not be used to decide which entries will be accepted.

Submissions are subject to approval.
Demo material submitted will become the property of Battle Jam 2005 and will not be returned.
No submissions will be reviewed after January 15th, 2005.
No last minute substitutions are allowed.
All judges decisions are final.
You will be notified by telephone of your acceptance to the competition. Along with your confirmation, you will be provided with information regarding arrival times and other show specifics.
If you did not provide a telephone number, we will attempt to contact you via e-mail. However, if no response to this contact is made within three (3)days, your entry will be disregarded. top
---
CONFIRMED COMPETITORS:
| | |
| --- | --- |
| MOOD E MARK | DJ BUCKNASTEE |
| DJ RASORIAL (incumbent) | MAX THE MORTICIAN |
| DJ SKUNK | DJ BLACKOUT |
| DJ UNKNOWN | |
| | |
| | |
---
GRAND PRIZE PACKAGE:
PIONEER DJ MIXER (model: DJM-707)
SENNHEISER HEADPHONES (model: HD280 Professional)
8' RCA MONSTER CABLE
© 2005 Iced Breaks Entertainment ........ || ....... E-mail Nick with your questions or problems.